J Hooks and Line Guides
with Hardware
Keeping Your Gear Secure

J Hooks, Line Guides and Attaching Hardware
J-hooks and line guides are essential kayak rigging gear. The hooks are designed to catch bungee cords and are used to secure kayak paddles, fishing rods, gaffs, stake-out poles and other kayak fishing gear.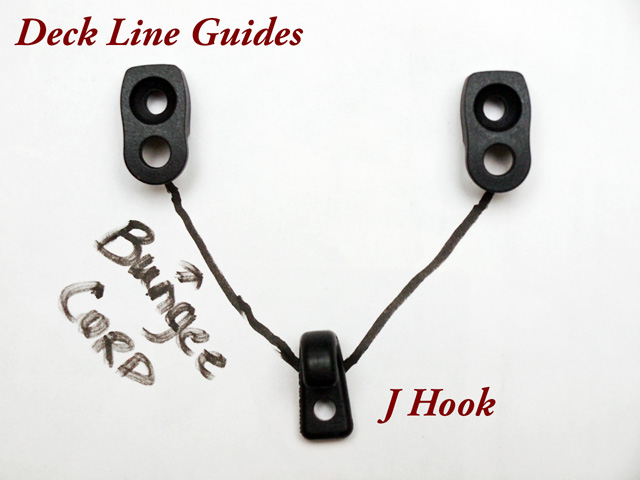 J Hook Layout Illustration
Fishing and kayaking gear is expensive. These hooks and line guides provide a simple and inexpensive means of securing your gear. It doesn't matter what type of kayak you have, safety features to hold gear are essential. 
The illustration shows a typical J-hook and deck line guide configuration. You can place as many simple V shapes as you need and even in multiple "VV" or  "XX" shaped patterns depending on what you are securing.
A single "V" shape can hold a kayak paddle, water bottle, fish lip grabber or other gear. Multiple "V" or "Z" configurations hold longer objects, such as gaffs or stake out poles, etc. It keeps then secure when paddling through surfs, and when loading and unloading the kayak. The criss-cross design or "X" shapes are designed to hold bulky objects, including sleeping bags or camping gear, tackle crates, tackle bags, etc. You can place them where ever they are needed and however you like depending on your needs.

Should I Use Screws, Bolts, Rivets or Well Nuts?

Which one you use is a personal choice. While the nuts and bolts will offer the strongest hold, access to the inside of the kayak is not always accessible. Well Nuts provide a way to blindly fasten gear to a kayak and seal the hole securely. An approx. 5/16" hole needs to be drilled. Always check the width of your well nuts before drilling. 
Stainless screws or rivets will also allow you to firmly attach the hooks. When using screws, as soon as the screw head is seated on the hook, just a quarter to half turn more is all you need so you do not over-tighten.
Never use sheet metal rivets on plastic. They do not expand sufficiently enough to offer a strong hold. Our aluminum tri-fold rivets are designed for plastic and hold securely with only a 3/16" hole. 

When you are rigging your kayak, there is no right or wrong way to do it. It all depends on your fishing style, equipment you plan on bringing and placement of the hooks and deck line guides so they are easy to access.
Stay safe on the water and secure your gear, leash your paddle and rods, and leash your tackle bags. The first time you tip over or capsize you will be glad you did. If you are on the ocean or lake you can even leash your kayak to you. Should you fall out the kayak is attached by a leash.  

---
J Hooks back to Hammerhead Kayak Supply Home