Our Warranty and Returns Policies
Warrenty and Returns Information
If for any reason you are not happy with your purchase or if you purchased the wrong item we will be happy to exchange or refund the item for up to 90 days. All items must be in new condition and in original packaging. Customer must pay return shipping. We do not charge a restocking fee. This excludes kayaks. For more information on kayaks, please see kayak warranty and returns below. 
Warranty and Return Information for Leashes
We are the manufacturer of many types of leashes and stand behind our products.  If you experience any problem  with any leash at any time for as long as you own the leash or as long as we are in business, we will replace it free of charge. 
Our Battery Kits - Warranty and Return Information

Battery kits come with a full five year warranty. However, we will refund your full purchase price including original shipping cost for 90 days after purchase for any reason if the item was unused. The item, plus batteries, must be in Unused, New Condition and in the original packaging. If you have used the battery box or batteries, then the five year warranty will apply. The five year warranty applies to quality of workmanship on the cases and wire assembly and excludes batteries. Cases that are destroyed or damaged from abuse, neglect, or improper handling will void warranty. Return shipping is paid by customer.  
Batteries and last a long time if taken care of properly. If they allowed to drain completely or if wires are crossed, etc. can shorten or end the life of the battery. Therefore, we will exchange batteries for up to 30 days  on a case by case basis. We reserve the final say on whether to exchange batteries or not. 
To help ensure long life of batteries, be sure to disconnect fish finder power cable from battery kit when not on the water. Also disconnect battery alligator clips from battery after taking the kayak out of the water or when not in use. 

Products from Other Manufacturers - Warranty and Return Policy
We are a dealer for many manufacturers and products. Railblaza, Yak-Gear, Viking Kayaks and others. Most of these companies offer warranties for their products. Railblaza, for example, warrents their kayak carts for 5 years and has a warranty card that must be subitted. Viking kayaks warrants their kayaks for 30 years. Be sure to examine the product's reqirements for warranty returns. You can find warranty and return information on the manufacturer website. Products and exchanges can be made through them. We will be glad to assist you in contacting the manufacturer for exchange or warranty work.

Warranty and Returns for Kayaks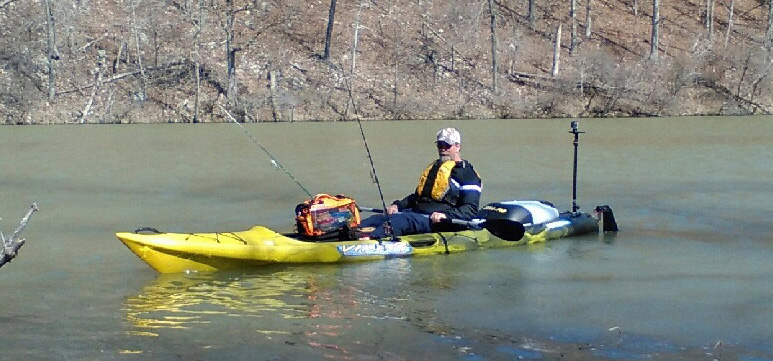 Fishing Noblett Lake in Missouri in a Viking Reload with Chill Pod
Each kayak manufacturer has a warranty that comes with the kayak. Viking Kayaks offer the best warranty in the business. See Viking Kayaks product page for details or click on the link at bottom of page. 

Our 90 day warranty excludes kayaks. This is because of the size of the kayak and that many transport companies have little experience with transporting such large items. Many companies won't transport them at all. We have searched for companies that know how to handle these items and have a better track record with shipping them without damage. For example, they cannot use fork lifts with kayaks and cannot stack things on top of the kayaks during shipping.  Therefore, to ensure you will be happy with your product, a certain procedure must be followed when a customer receives a kayak. 
Important Notice About Inspecting Kayaks Upon Arrival
All kayaks come bubble wrapped and must be signed for at time of arrival at your residence. Without a signiture, it won't be left by the shipper. If we ship you a kayak, you must unwrap the kayak from the bubble wrap in the presence of the shipping agent and inspect the entire kayak for damage.  If there is any damage, such as holes in the kayak, etc,  then you can then reject the shippment and it will be returned to us at shipper's expense. If you accept the item by signing for it and then later unwrap it and find damage, return shipping will be on the customer. 

If you ordered an accessory that wasn't with the kayak when it arrived, we will ship that to you separately. Do not reject the kayak for not having a rod holder, chill pod, etc. We often ship paddles and other accessories separately. 
Viking Kayak's 30 Year Warranty and Return Information Can Be Found Here.
If you have any questions, please contact us. We will be glad to help.