Anchor Trolley Kit
Pulley System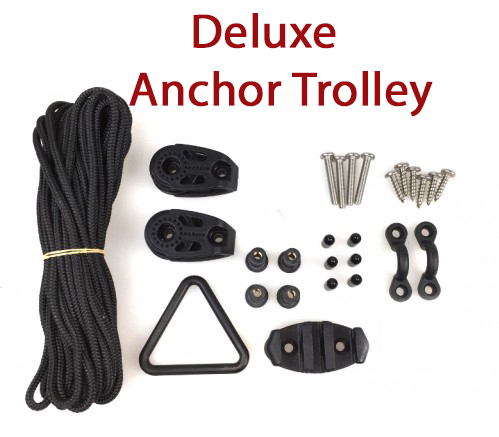 Yak-Gear Deluxe Anchor Trolley Kit
An anchor trolley kit is an important piece of equipment for kayak fishermen. Havng a means of safely anchoring your kayak will give you and advantage over other fishermen. The above photo shows the parts to the Deluxe Trolley System by Yak-Gear. (Hammerhead Kayak Supply is a Yak-Gear Dealer.)
Why Use a Trolley System?
Kayaks are so light they are easily moved around by wind, waves and current. The anchor trolley system allows you to anchor while maintaining full control over your positioning. While you are anchored you can slide the rope through the pulleys to easily adjust your kayak position up 180 degrees. The bow of your kayak can go from facing north to facing south in seconds. 
A 3.5 lb grapnel is usually sufficient to hold your position or slow drift over sandy bottoms. There are important tips for setting up an anchor so you can retrieve it even if caught on the bottom. Please see the tips for setting up an anchor.
Using the Trolley System with Drift Socks
The anchor trolley kit can be used with drift socks. Drift socks are placed in the water and slow the speed of drift so you can stay over baitfish or structure longer. One 24"also called drift chute will work on kayaks up to 16 feet long. Drift Socks, also called Drift Chutes, are essentially funnels that catch water causing drag that slows drift from wind or current. The chutes are attached to a rope and then attached to the anchor trolley. 
Using the Trolley System with Stake-Out Poles
You can also set up a stake-out pole and attach it to your trolley system. Stake out poles are pushed into sandy or muddy bottoms thereby holding your position. When attaching the stake-out pole to the anchor trolley kit you can find the sweet spot against the wind and current by moving the pole anywhere along the length of the kayak. 
For more information on attaching the trolley system to your kayak, see the Yak-Gear Deluxe Anchor Trolley Kit video below.

---
Anchor Trolley Kit back to Hammerhead Kayak Supply Home