Blue Sea Cable Clam Ordering Page
Watertight Cable Pass-through System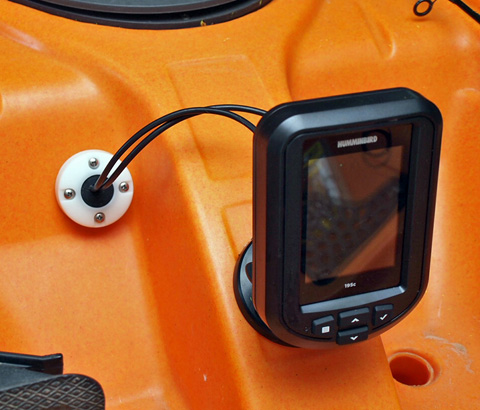 Blue Sea Cable Clam - Watertight Cable Pass-Through
---
Information on Blue Sea Cable Clams
Blue Sea Cable Clam Company makes a watertight tool that allows you to pass cables or wires through the wall of your kayak without sacrificing watertight integrity. This is truly a necessary item if you have to drill holes in your kayak. The holes are larger than the diameter of the cable usually over 1/2". It takes a cable clam to keep water out.
The cable clams also lock your wires in place so the amount needed is all that shows on top. The remainder of the wires are safe inside.
Why Use a Cable Clam?

Why would you need a clam on your sit on top fishing kayak? If you intend to mount a fish finder on your kayak you will want to run the wires through the kayak wall into the storage area located inside the forward hatch.
Inside this forward space is the perfect place to put your battery power supply for powering your fish finder. It is also the best place to mount your transducer so it can "shoot through the hull". It is super easy to do. Check out the link below.

Attaching a cable clam is real easy and will only take a few minutes. All you need are a few simple tools. The minimum tools need are listed below:

Electric Drill
Drill Bits
Screw Driver
Sharp Knife or Razor Blade
More Information and Installation Instruction
If you need step by step directions on how to attach a cable clam, please see our page on Marine Cable Clam Installation and Facts
---
Blue Sea Cable Clam to Hammerhead Kayak Supply Home