Cree 3000 Lumens Flashlight
~Zoomable with Strobe~
Tactical All Metal LED Discount Flashlight

Cree 3000 Lumen Zoomable with Strobe Tactical Flashlight
---
Cree Tactical Flashlight Information and Specs

The term Discount flashlight doesn't mean cheap. It means we got a great price on this terrific tactical flashlight and pass the saving on to you. Check out our Cree 3000 Lumens, 5.5"all metal, zoomable with strobe feature, LED tactical flashlight. 
We liked this flashlight due to the wide range of beam adjustments, from a small dot of light to a larger broad stream of light. Having a source of light is necessary when out of the water after dark or when trying to find lures and gear or when loading or unloading in low light conditions.
What we also liked about this flashlight is the strobe light feature. A push of the button and you have a rapid fire on - off strobe light that can be used as an emergency signal or to get another's attention. The strobe's primary function is to serve as a signal to others that you are in need of help. At night it can be a real life saver. Please see our video on the flashlight's features.
» Click Here to See How the Cree
Tactical Flashlight Beam Looks «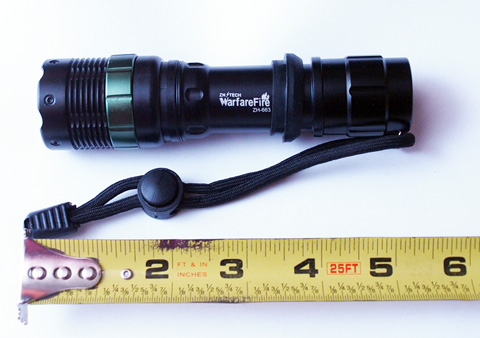 Cree 5.5" 3000 Lumens
LED Tactical Flashlight
Flashlight Specifications
This is a great flashlight to carry with you when kayak fishing and kayak camping trips. It comes with an adjustable lanyard to attach to the kayak or on your body.
Here are the major specifications and features:
All Metal Construction
Military Green

Adjustable Beam from a Tight Dot to a Wide Beam
Strobe Light Feature Can Be used as a Signal or Emergency Light
Two Brightness Levels

5.5" Long for Easy Storage or Carrying

Uses 3 AAA Batteries - Batteries Included

Adjustable Lanyard

Limited Quantities Available

High Quality

"Discount Flashlight" Only Refers to the Price.

Kayak fishing is a great sport. Tournaments often go into the night and a source of light is a must. Finding a lure or fishing gear in low light conditions can be difficult. Paddling in or around standing timber after dark can be hazardous. Having a tactical flashlight available is not only necessary, but it is unwise to be on the water without one. Never go out into the night without a light source. 
I lived in the country for years. If you are stuck out at night with no light, you have to sit down by a tree and wait until morning. You can't see your hand in front of your face, literally. It is worse on the water. 
Make sure you get your discount flashlight before they are gone. We got special pricing on these flashlights and are offering them to you at a savings. Batteries are included. This Cree LED Flashlight even comes with Free Shipping in the U.S., Puerto Rico, U.S. Virgin Islands and all U.S. Territories.
Don't be Caught on The Water After Dark Without a Source of Light!
This Multiple-Feature Tactical Flashlight is The Perfect Flashlight!

---
Tactical Discount Flashlight back to Hammerhead Kayak Supply Home