Our Complete
Kayak Battery Kit

---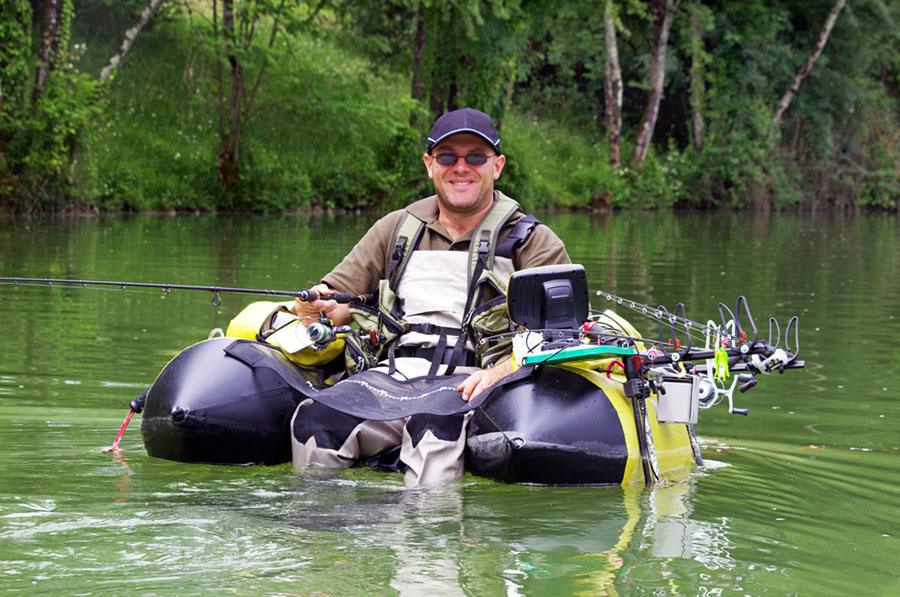 High Tech Float Tube Complete with Electronics
Two Kits to Choose From
12v 9 amp Kayak Battery Kit Features
Highest Quality, Extremely Tough Waterproof Case

Case is Lockable and Fits in Most Kayak Hatches

Battery Is Secure and Will Not Move Inside Case

12v 9 Amp Rechargeable Battery

9 amp Battery Gives Longer Run Times Between Charging

Waterproof Wiring System

Loose Wire Lead Attaches to Transducer Wires

Fuse Holder Installed 




Perfect System for Multiple Feature Fish Finders

Comes with 12v Charger 
---
12v 4.5 amp Kayak Battery Kit Features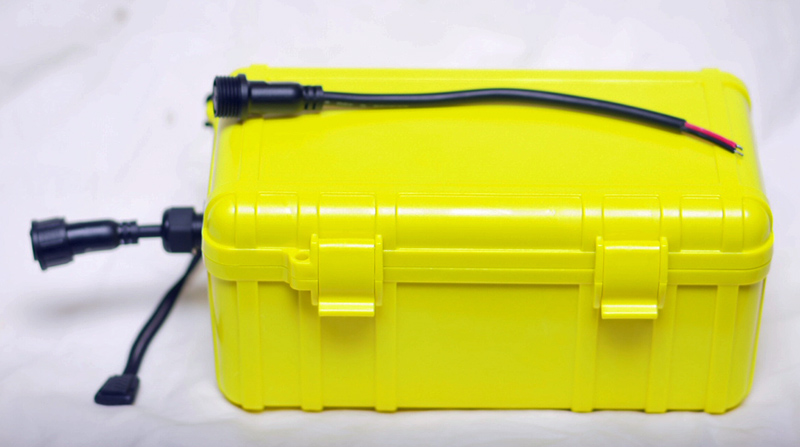 Famous S3 Lockable and Crush Proof Box

Perfect For Tight Spots

One Third Small Size Than Larger Case




Highest Quality Male and Female Marine, Watertight Wire Leads

Fuse Holder Installed

Ancor Wire Seal

Dual Batteries Attached to Produce 12v at 4.5 amps

Dual Batteries Last Longer Than Single 12v 4.5 amp Battery

Batteries Fit Snugly and Will Not Fall Out or Move Around

Simple to use and can set up in minutes

Perfect for Low Draw Fish Finders

Current Box Colors are Yellow and Black

Comes with 12V Charger

Please indicate which color you want when ordering if a choice is desired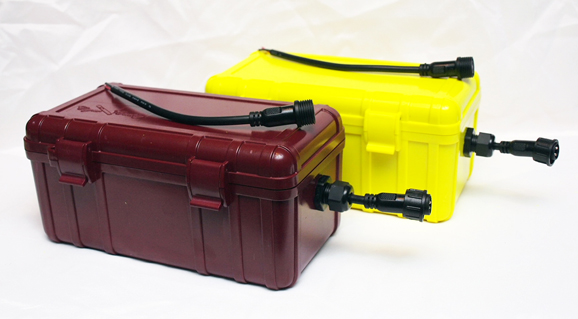 Yellow and Maroon Kayak Battery Boxes
Kick'in It to the Next Level
Our complete kayak battery kit will take your kayak fishing to the next level by supplying power to your fish finder. Fish finders are not just for power boats anymore. For the serious kayak fisherman it is not enough to simply get on the water, but you need to know where the structure is that hold fish. This crush proof battery kit will power your fish finder and enable you to find the features that hold more fish.
Complete Kayak Battery Kit Information
This kayak battery kit meets a great need for kayak fishermen. It will power your fish finder all day and longer so you can find the structures and bottom features that hold fish.
Kayaks have come into the 21st century. These are not your grandfather's kayaks. Fishing kayaks  come in all sizes and lengths, both pedal and paddling, sitting and standing. But to see where the structure is you still need a fish finder. Powering your fish finder is now incredibly easy with our new kayak battery kit. It is lightweight , powerful, and will fit perfectly in your kayak, canoe or even strapped to float tubes.
Battery Box Construction

Our kayak power system is constructed using the S3 crush proof and watertight box. It is perfectly sized for kayaks and can easily fit through the hatch in most kayaks. I use it to power my fish finders in my Wilderness Systems Tarpon 120, Ride 13.5 and my Viking kayaks.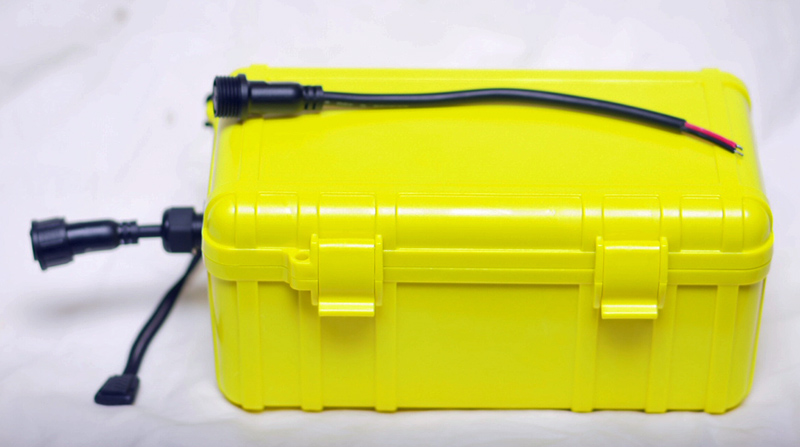 Complete Kayak Battery Kit Including Lead for Fish Finder Power Cable
Marine Leads

The kits comes with two perfectly matched marine leads. One lead is installed in the battery box and the other is for you to attach to the bare wire leads on the power cord of your fish finder.
Fuse Holder

We have installed an inline fuse holder inside the battery box for your safety and peace of mind. Probably all economical fish finders and many top models do not come with a built-in internal fuse. This is because fish finders were not designed with kayaks in mind. Rather, they were designed to be used on larger boats that come equipped with a fuse panel for all the electronics. Since kayaks do not have fuse panels we have install an inline fuse.
Fuse Amp Information

Many fish finders only require a 1 - 3 amp fuse. I use a Humminbird Helix 5 with GPS/Chart model. Although the manual on many fish finder models says it needs a one amp fuse, which can be hard to find, the Humminbird Company says those units can handle a 2 amp or 3 amp fuse to satisfy the fuse requirement. In fact, if you go to a boat shop and ask them, many only install 3 amp fuses regardless of what the manual says.
However, don't take my word as gospel for your fish finder. Before using a different sized fuse than what the manual says, consult with your model's manufacturer first.

Important NOTE on Fuses: Originally, fish finders were only found on larger boats and bass boats that have a fuse box installed. Only recently, in comparison, have they been put on kayaks. Keep in mind that while most fish finders do not come equipped with an internal fuse, the warranty requires one installed or it may not honor the warranty should it short out.
Batteries
12v 9 amp Battery Kit
Our premium kit uses a single 12v 9 amp battery to power your fish finder. This is designed for longer running times and for more complex fish finders. Most fish finders use only a fraction of 1 amp per hour. However, models with GPS and Charting can have a higher drain on the battery. This is when you will need to purchase the kit with a 9 amp battery. 
The premium 9 amp box is slightly larger and a few pounds heavier (approx 7 lbs total)  than the dual 4.5 amp battery kit. 
12v 4.5 amp Battery Kit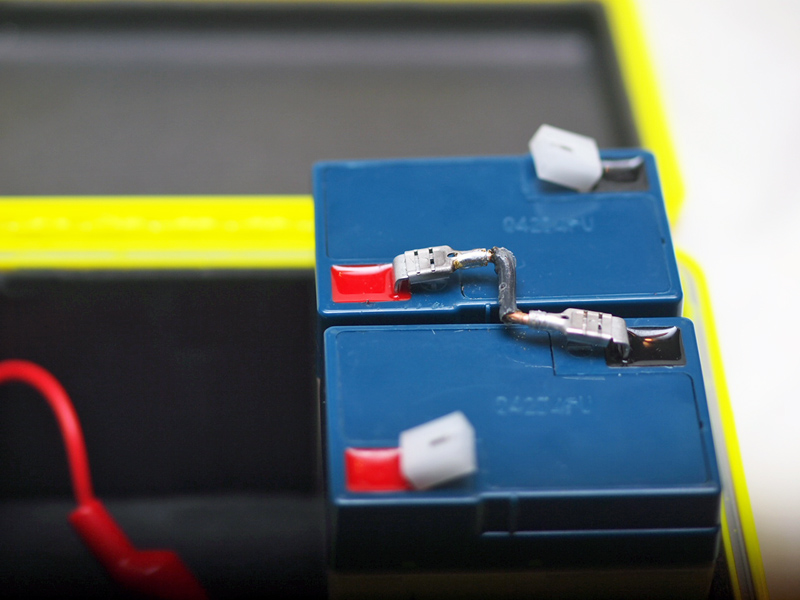 Dual Batteries in Kayak Battery Kit
Most fish finders require very little power to operate, but they do need a 12v system. You can actually run a fish finder for most of the day using 8 AA batteries attached in series to produce 12v. However, it is a bit of an inconvenience and the cost of batteries can climb over time.
Therefore, we have developed a great system using two 6v batteries attached to produce 12v at 4.5 amps. I can run my fish finder for 20 hours before recharging. Battery experts say that two 6v 4.5amp batteries connected in series will run longer than a single 12v 4.5amp battery. However, I usually recharge at the end of each fishing day.
Note About Lead Acid Batteries: Lead acid batteries do like it when the charge is completely drained. For longer life be sure to recharge the batteries after each full day of fishing.
12v Charger

Your battery kit wouldn't be compete without a battery charger. We buy small battery chargers in bulk to get the best price. They may vary in type and name, but will be a 12v battery charger that will work perfectly with your battery kit. We include a 12v battery charger free of charge to finish off the complete package. If you have any questions, please don't hesitate to contact me. 
---
Kayak Battery Kit back to Hammerhead Kayak Supply Home