RailBlaza 48" Kayak Safety Flag
and
RailBlaza Visibility Light and Flag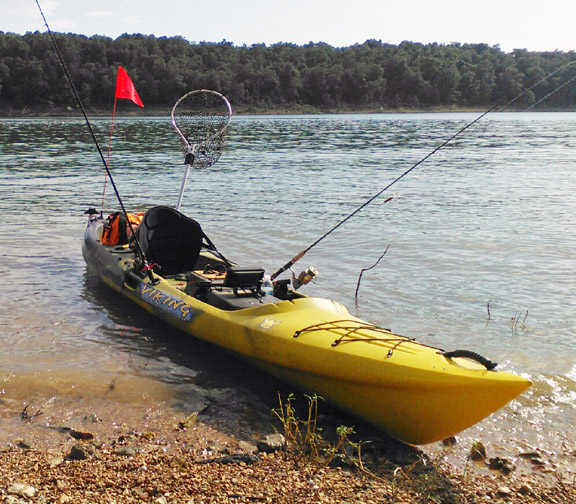 Viking Profish Reload Kayak
The Railblaza 48" Orange Kayak Safety Flag should be an important consideration on every kayak. Kayak visibility is something that should never be taken for granted.Be seen day and night! Now you can choose between a "Flag with Light"  "Light Only" and "Flag Only"!
Additional Product Information
Railblaza Kayak Safety Flag and Light Features
For Day and Night Visibility!
Light Features for "Flag with Light" as well as "Light Only" 
Full Brightness - Up to 25 Hours Battery Life

Professional Kayak Light with Long Life Battery

3 Different Light Settings 

Low Brightness - Up to 160 Hours of Battery Life

Flashing Mode - Up to 200 Hours Plus Battery Life

Floating Waterproof Light Down to 1 Meter (39") 

LIght Meets USCG 2NM 33 CFR 183.810 & ABYC A-16

Japanese High Tech Circuitry 
Flag Pole Features (For Flag with LIght)
Multi-Use 3 Section Flag Pole

Light Can Be Removed and Replace with Camera Pod, Etc.

Comes with Starport HD and Stainless Steel Hardware
Whip Flag Pole and Flag Features
48" Flag Pole and Orange Flag

Highly Flexible Fiberglass Pole

Non-Bleaching, Sun Resistant Flag

Round or HD StarPort Base Included with Stainless Hardware

May Request Starport HD if Desired

If Purchased Separately is $37.95 - A Great Buy at $24.79
RailBlaza 48" Flag Adapter and StarPort Base
For Daytime Visibility 48" Whip Flag
Comes with Railblaza Starport Base Included

48" Tall Kayak Safety Flag with Flexible Fiberglass Shaft

Orange Triangle Shaped Flag

Star-Shaped Adapter at Shaft Base Fits Any RailBlaza StarPort Base

Retangle StarPort Base w/ Stainless Steel Hardware Included
The Problem with Kayak Visibility
Kayaks are being used on rivers, lakes, streams, and even the Gulf and Oceans. While narrow rivers and streams do not pose much of a visibility problem large bodies of water do present visibility problems.  On lakes and larger waters that are being shared with large, fast boats, everything you can do to be seen is to your advantage, including using a kayak safety flag. 
Kayaks are made in many different styles and colors these days. Many of those colors are a mixture of several different colors. While they are beautiful to look at the patterns help break up the shape of the kayak at distances. Dark colors, earth colors (yellows, greens, browns, etc) and blue and white blended colors tend to blend in with the background. I will show you what I mean. 
I am a dealer for Viking kayaks. So one of my kayaks is a Viking Profish Reload in a yellow,green, black color mix. It is really pretty, but in the spring when all the blooms and yellow green leaves are sprouting along the bank my kayak can be very difficult to see. 
Kayak Fisherman, Russ James, on Norfork Lake in Missouri
In the picture above, my viking kayak, even at less than 100 ft away is just beginning to blend in with the background. This was taken in early spring. Later in the year the bank if filled with greens and yellows and blacks. My kayak would be almost invisible. An orange kayak safety flag is not a natural color and would help in visibility.
Kayaks Color Fades at Distances
I fish mostly lakes and I often have to cross the lake to get to the other shore. That means I have to paddle across the path of larger boats and jet skis. You need to be aware that darker colored kayaks (reds, browns, etc) look dark grey from a distance. My wife has a red, white, and black kayak and at 100 yards it is dark grey. When she is along the bank, even when I know where she is, I have a hard time seeing her. 
When crossing the lake a dark grey looking kayak blends into the grey/blue looking water at a distance. The first thing I see when my wife is paddling across the lake is her white paddles. Once I see the white paddle going up and down I can then make out the kayak. 
Why is This Important?
If a boat speeding along at 40 mph and is 300 yards away and a gorgeous babe in a bikini catches his attention, he can be one top of your kayak before he even knows you are there. If he never saw you to begin with because you blended in with the background he would have no reason to keep an eye in your direction. 
Every year kayak fishermen disappear on the water. I followed a few stories of people who disappeared on the Gulf while kayak fishing. No trace of the fishermen were ever found and it is left to the imagination to figure out what happened. One thing is for sure, none of those who disappeared had taken measures to make sure they can be seen. We will never know if that played a factor, but why take a chance. 
Things You Can Do to Be Seen
Have an Orange Kayak Safety Flag

Wear Bright Clothing

Have a Loud Whistle

Use White Paddle Blades 

Attach RailBlaza Kayak Lights or Your Own 

Assume People May Not See You and Be Prepared
You can never over do it when it comes to being seen. It is a matter of safety. 
Be Seen Day and Night
RailBlaza Light and Flag Kit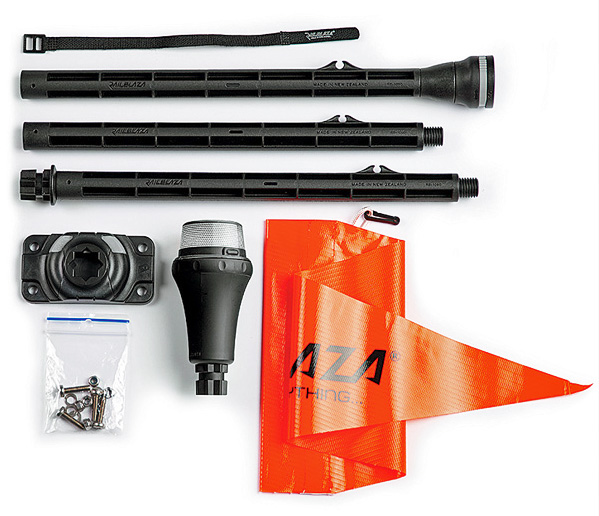 RailBlaza Visibility Light and Flag Kit Showing Parts
---
Kayak Safety Flag back to Hammerhead Kayak Supply Home