Nylon Padeyes and Rivets
Kayak Rigging Supplies

Kayak Fisherman with Sun to His Back
Padeyes and Rivets Information
Nylon Padeyes and Aluminum Rivets
Nylon padeyes and rivets are essential gear for kayaks and canoes. The padeyes are the primary points for attaching paddle leashes and rod leashes and for securing gear inside kayak or canoe and for especially kayak fishing. Simple padeyes keep you from losing hundreds of dollars of gear over the side.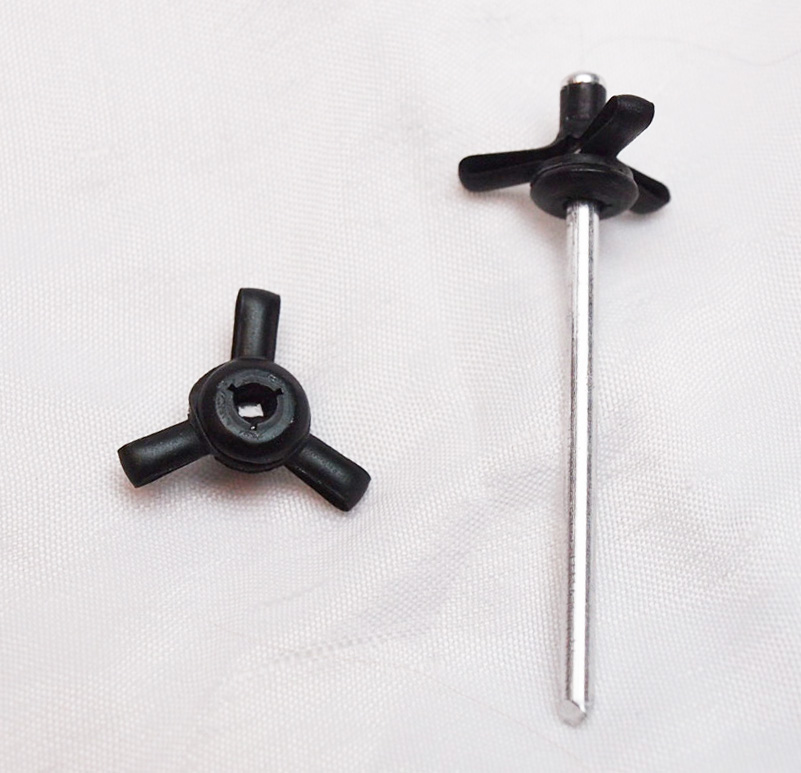 Tri-Fold Aluminum Rivets
 Many new kayaks do not come equipped with padeyes and you must install them yourself. They are super easy to install and the hardware can be aluminum tri-fold rivets or stainless steel bolts with locking nuts or stainless screws. We are also adding well nuts to our list of fasteners. The aluminum rivets come equipped with an attached rubber washer for additional watertight security.
Why Use Aluminum Tri-Fold Rivets
Standard pop rivets are designed for sheet metal. They squeeze to form a small ball large enough to prevent the rivet from coming out and tightly locking the metal sheets together.
However, tri-fold rivets are designed to separate into three long arms when the rivet is compressed. These long arms are better suited for plastic and prevents the rivet from breaking through. Should you need to replace a rivet, simply use a 3/16" drill bit and drill down through the center of the rivet. Then insert another rivet and compress it with a pop rivet gun.
Nylon Padeyes - The Standard on Kayaks
Nylon Padeyes will not rust and are super strong. They are small and have become the standard securing point on kayaks. Many kayaks do not come equipped with padeyes and the owner must purchase and attach them.
Padeyes fastened with rivets are for light to medium or medium/heavy use. This is for securing rods, paddles, dry bags, extra gear, etc. If you are securing a fully loaded cooler packed with ice and beer, if possible, try to attach the padeyes with the nuts/washer and bolts. If the kayak capsizes the extra strength offered by the nuts and bolts may be needed, especially in rivers where the current may pull the items away from you.
---
Padeyes and Rivets back to Hammerhead Kayak Supply Home