Yak-Gear Rod Holders
Different Styles - Different Designs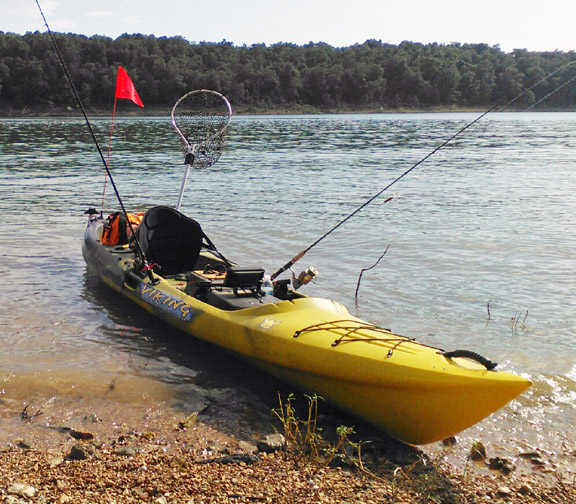 Viking Profish Reload Kayak with Flush Mount Rod Holders
Yak Gear Rod Holders Information
Yak-Gear Rod holders can help make fishing more fun and provides a secure place to store rods. Many kayaks don't come with any at all. After-market rod holders provide a place to safely store your rod when paddling, changing baits or just moving things around in the kayak. I use my rod holders every time I am on the water. Without them you run the risk of losing the rod over the side. 

Double Rod Holder
Attaches to Crate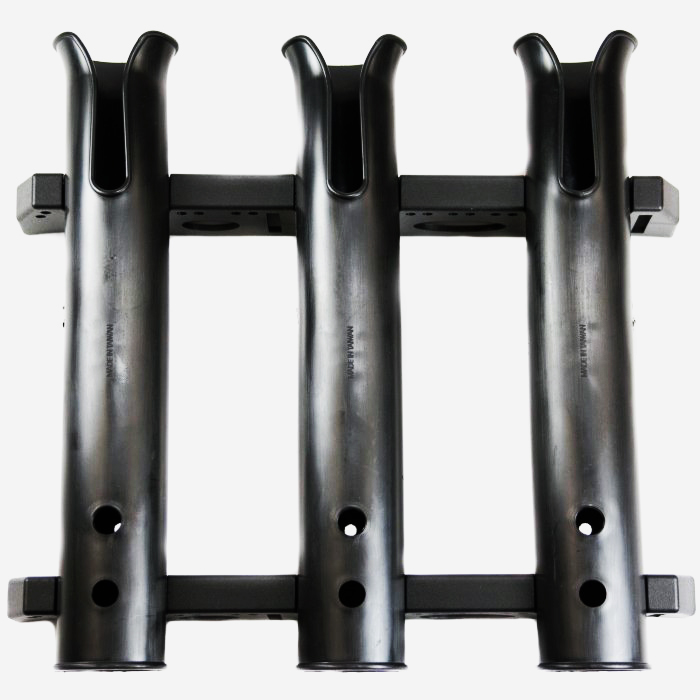 3 Rod Holder
Attaches to Crate
Flush Mount Rod Holders
with Padeyes
Yak-Gear "Build a Crate" Rod Holder Kits
2 and 3 Rod Holder Kits

The above photos show two different types of after-market rod holders. The first two photos show rod holders that attach to a milk crate. The kits come with all the necessary gear, including stainless steel hardware.
The "Build a Crate" rod holders are approx. 11" long and 1.5" wide and have a slot for the spinning reel arm to slide into. The slot helps keep the reel from swinging around and secures it in place. 
In case you are not sure, milk crates have been used for many years in kayak fishing to hold fishing gear. The crates are sturdy, strong and somewhat indestructible. The crate is placed in the compartment behind the seat on fishing kayaks and is attached to the create using stainless hardware that is provided. 
Milk crates can be customized to suit your needs. Some people leave one wall of the crate intact to mount the rod holders and cut down one to three sides so that the gear is easier to access. You can find many ideas online or just leave the crate as it is if you prefer. 
Be sure to secure the crate to the kayak using shock cord so if you tip slightly it will not fall out. 
Yak-Gear Flush Mount Rod Holders 2 Pack
Includes 6 FREE Rivets
The third photo shows flush mount rod holders. The flush mount rod holders are over 7" long and 1.5" wide with a 30 degree angle and come in packages of 2. We have included the gasket, trifold rivets and padeyes. You can position the rod holder in any direction so it fits your particular needs. Before drilling any holes, be sure to check the angle so the rod holders are positioned correctly. Some like them to slant to the side for trolling or slanted directly to the back.
A hole is drilled in the kayak using a 2 1/4" hole saw and the rod holders are attached using the aluminum tri-fold rivets that come included in the kit. You can substitute stainless steel self taping screws instead of rivets if you prefer. Be sure to request the screws before ordering because we ship quickly. 
The flush mount Yak-Gear rod holders have a padeye that attaches to the rod holder and is held in place with the rivets. A 3/16" drill bit is needed to drill a hole in the kayak for attaching the rivet. The tri-fold rivets were great in plastic and will hold everything firmly in place. 
Kayak Rod Leashes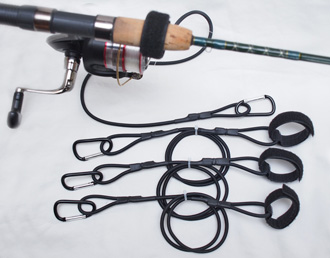 Hammerhead Kayak Supply's 32" Rod Leashes
Rod holders are great tools every fishing kayak needs, but they will not keep your rods safe if you capsize. Be sure to use kayak rod leashes for added security. They have permanently attached velcro that can be ripped off with no worries should you need your rod in a hurry. It is very cheap insurance for high priced rods. 

Ocean Sport Fishing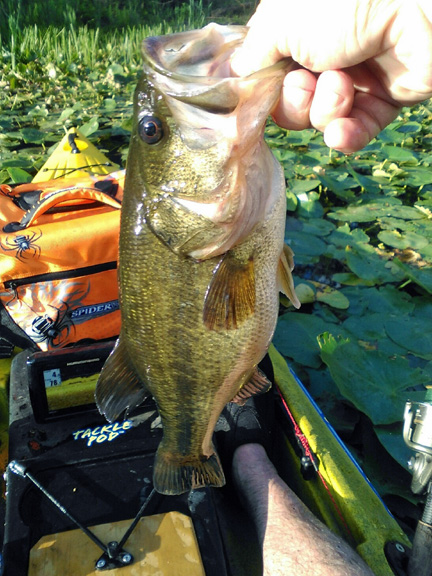 Largemouth Bass From Missouri Lake Russ James, Owner, Hammerhead Kayak Supply
Rod Holders back to Hammerhead Kayak Supply Home