Hammerhead Kayak Supply
Quality Fishing Gear and Rigging Supplies
Low Prices and Quality Service

Walking Out a Kayak After A Day of Fishing
"Please Listen to a Short Welcome Message From
Hammerhead Kayak Supply Owner, 'Kayak Russ' James"
Hammerhead Kayak Supply was started for kayak anglers by an experienced kayak fisherman. Our goal is to offer top quality kayak accessories, freshwater, saltwater and surf fishing gear at the best prices possible. There is no reason to break the bank outfitting your kayak. Whether you are fishing for largemouth bass on clear Missouri lakes or bull reds on a Louisiana marsh, we have what you need. Please check us out.
Click on the Photos Below for a Different View
Click on the Products Tab Above for More Info
(Just a Small Sample of Our Products)
All Photos are Property of Russ James - Do Not Copy or Use Without Permission

Top Quality Kayak Supplies at Great Prices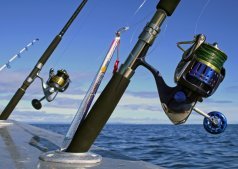 Spinning Rods Rigged and Ready
Hammerhead Kayak Supply was born out of a love of kayak fishing. Whether you fish or paddle in freshwater or saltwater, you are among thousand of others who enjoy the sport. Please check out our growing website for top quality kayak accessories. 
Check out our selection from these major suppliers:
Yak-Gear
RailBlaza
Viking Kayaks
Hammerhead Kayak Supply Gear
Favorite Rods
More on Our Products List
Information About the Brands We Carry
RailBlaza - New Zealand: Railblaza makes top quality kayak fishing and boating gear. Their business logo is RailBlaza - Hold Everything. They make kayak fishing gear, such as rod holders, whip safety flags, camera mounts and many other items designed to hold your gear on board your kayak.  
Yak-Gear: Yak-Gear is a major supplier of rigging gear and more, including flush mount rod holders, padeyes and rivets, anchors, and so much more. They are also a distributor for fish grips, paddles, kayaks, and more. 
Viking Kayaks: Viking Kayaks are made in New Zealand and are designed to handle big water. New Zealand, being an island, is the perfect place to test the ability of a kayak. These kayaks are among the fastest on the water and the Viking Profish Reload comes with a removable tackle pod, chill pods to hold your catch and more. The reload is my kayak of choice. 
Hammerhead Kayak Supply: Hammerhead Kayak Supply is a manufacturer of kayak safety leashes and tether leashes. All of our leashes come with a lifetime warranty against defects. They have also designed kayak battery systems for powering your fish finders. In addition we carry a large and growing supply of major brands of kayaking and kayak rigging gear. 
Favorite Rods: Favorite Rods are well-known in Europe but are new here in the U.S. Their top rods are among the best on the market. Touted as the lightest fishing rods in the world, they are engineered and manufactured using the newest innovations and highest quality materials. For the tournament pro to the serious fishermen Favorite has a rod for you.
For the everyday fishermen, Favorite Rods has a more economical line called "Select Rods" and are made from top quality IM graphite blanks and materials. For the price, you cannot beat the quality. Other manufacturer's rods of equal quality are much higher in price. We will be adding more to our line this year.
A Note About Refurbished Fishing Gear: Many of our reels have been factory refurbished or new but without the original box.  Brand new reels will come in original packaging. Some were display items and the original box was not saved and we are able to sell them at a lower cost. Still other reels or rod and reel combos are store returns and look and perform like brand new.
We will soon be discontinuing our line of refurbished brand name reels. When they are gone they are gone!

We test every reel to make sure it performs like new. Any fishing reel that is not brand new we can sell in bulk at greatly reduced prices. 

We want to get people fishing, especially young people. To do this we are willing to sell at deep discounts.
Our Guarantee: All Hammerhead Kayak Supply Leashes come with a lifetime warranty. All the refurbished fishing reels are tested and come with our 90 day, no hassle, money back guarantee. Brand new gear is backed by the manufacturer's warranty.

Paddling Through the Surf
Whether you are a hardcore freshwater bass fisherman or enjoy catching a trout or bluegill on ultra lite equipment, we will have what you need. On the other hand, if your primary fishing is for bull reds along the coast, we can supply the surf equipment and the best combos for use on fishing kayaks.

Tight lines, my friend.
"Kayak Russ" James  <ᵒ)))<

---
Our Site's Table of Contents
Thank you for looking over our products - kayak equipment, rods, reels, combos, and more.
The Zebco ProStaff Reels have been around for almost a century. Check out our lineup of top quality Zebco reels.
The Zebco 33 is the most popular Zebco Spincast Fishing Reel. See our line of Zebco spincast reels.
Our Shakespeare fishing reel line includes baitcasting reels, spinning and spincasting reels.
Check out our absolute best baitcasting reels at amazing prices.
Check out our line of Original SJ4000wifi Action Cameras
Check out the SJCAM sj4000Plus 2K with wifi and Gyro. A fantastic camcorder with gyro image stabilizaton.
The SJ5000wifi is a perfect choice for catching all the action when kayak fishing!
Our RailBlaza Products list. Click on any photo for more information.
Yak Gear rod holders helps keep your rods safe and secure. Check out the different types based on your style and needs.
Kayak safety leashes are designed to keep your gear and paddle attached to the kayak in any situation.
Yak-Gear Anchor Trolley Kit Pulley System offers quick and easy anchoring in any position. Check it out!
Kayak padeyes and rivets for adding additional shock cord and tie down points.
J hooks are important tools for securing gear in kayaks. We have hooks, hardware and more.
Our Duct Seal Ordering Page with Free Shipping. The easiest method to secure your fish finder transducer.
Our Blue Sea Cable Clams Ordering Page shows you the cable clam available and how they work. Get yours now!
Hammerhead Kayak Supply's complete kayak battery kit for powering your fish finder and other electronics.
We have a great discount flashlight, the Cree 3000 Lumens, all metal, zoomable with strobe LED flashlight.
The Viking Profish Reload Kayak is a proven and tested fishing kayak with many great accessories.
The paddle kayak leash and rod leashes are essential items for kayak fishing. Check out our styles and designs.
Know Your Kayak visibility on the water - Find out why you may not be as visible to other boaters.
Learning to use ocean currents and tides to your advantage can make your kayaking more enjoyable.
Winter kayaking can be fun, but it comes with risks. Find out how to prepare and survive a cold water swim.
A few amazing kayaking photos not photoshopped.
Kayaking with big alligators can be intimidating, but it is much safer than you think. Find you how to stay safe.
How much gear should you pack into their kayaks. This is an often asked question and we have some answers.
The deer fly has a painful bite. Learn about them and a new and easy control method.
Hiring a fishing guide can be the difference between a fun day and a fantastic day of fishing. What to look for in a guide.
Using Duct Seal for securing your fish finder transducer is easy and works perfectly. See How to Do It!
The cable clam allows wires to pass through the kayak hull while maintaining watertight integrity. Check these out!
Wire cutters are more important than you realize. See why you MUST bring them kayak fishing.
Redfish Fishing at Rockport, Texas with guide Ryan Ford.
Tips for finding the best bass fishing spot on flooded lakes.
Redfish lures and techniques that actually work.
Stanley Ribbit Frog Topwater Bass Fishing Tips.
Zebco reels
Hammerhead Kayak Supply exists to promote the joy of kayaking and kayak fishing around the world and to offer equipment and kayak gear to match your fishing style.
This "About Us" page is the story behind Hammerhead Kayak Supply and how they got started.
Please use this page to contact us at Hammerhead Kayak Supply.
Hammerhead Kayak Supply's legal information page.
This page describes Hammerhead Kayak Supply's Privacy Policy and Terms of Use Statement.