~~ About Us  ~~
Hammerhead Kayak Supply

I am glad you are taking the time to read the "About Us" page, the story behind  Hammerhead Kayak Supply. My name is Russ James and I am the owner.  We love to tell people that we are kayak fishermen serving kayakers and kayak fishermen. That is precisely what we are.
kayak fishing isn't only about the fun of kayaking or the thrill of fishing. To us, kayak fishermen are a special breed. I prefer to think of us as family. Those that have never paddled a kayak, especially on the oceans, have often said we are crazy. There may be some truth in that. I believe there may be at least one crazy gene somewhere. We go out in small plastic boats in both fresh water and salt water in pursuit of all types of fish that most people prefer to catch from shore or in larger boats.
Recently a world record 15 ft Greenland Shark was caught from a kayak. The fisherman set out to break the record and practiced by reeling in 60 lb cement blocks to build his strength.

My Early Fishing Days!
When I was only 15 years old just and just starting high school I bought my first boat. It was a well-used 16 ft aluminum bass boat and trailer I bought from a neighbor. I pulled the trailer and boat over to my house by hand. This is because I bought the boat before I bought my first car. I used my dad's truck to take the boat to the lake until I could afford to buy a car. I have been fishing ever since.
Yea! How About My First Kayak?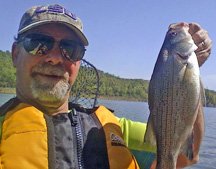 I started kayaking later in life. I had only been in a kayak once before buying my first fishing kayak. It was a Wilderness Systems Tarpon 120. Soon after getting the yak I made a few paddle leashes and rod leashes to keep my gear safe. I had a lot of money invested in my fishing gear and I didn't want to lose anything over the side if I accidentally flipped my yak. They worked well and soon I was making them for others. I realized there was a market for them and started selling them online. Although it was still in the seedling stage, the humble beginnings of Hammerhead Kayak Supply was born!
It's Not Really About Us. It's About You!
It is not really about us, it's about you. It's amazing that most of the people we talk to are just starting in kayak fishing and are brand new to the sport. Some are new to fishing as well. With that in mind we offer fishing equipment geared for those new to fishing as well as the experienced, hardcore kayak fishermen.
We do our best to offer top quality equipment at low prices. We are fortunate to obtain store returns and factory refurbished equipment as well as brand new items from major manufacturers and big name stores. We have products to fit any budget. Any item that is not new is tested to ensure it works like new. We are then able to offer it to you at a lower than new product prices. There is no reason to break the bank buying a rod and reel.
Our Specialty Products

We offer our own waterproof battery kits for powering fish finders. Fish finders are no considered essential items on fishing kayaks.
We also manufacturer paddle leashes, fishing rod leashes, a variety of gear leashes, and more. These are essential items to protect your gear should your kayak tip over on the water. There is no worse feeling than to realize your paddle and fishing equipment is no longer where it should be - in the kayak. These leashes keep that from happening.  Since we sell these items direct to public we can sell at lower prices.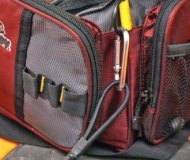 All About Electrical Power! Battery Kits for Powering Fish Finders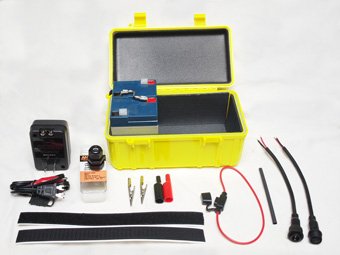 We have also put together a DIY kit for powering your fish finder on your kayak. We have a variety of 12 volt kits from a wire system only to a complete kit including the battery and charger.  
You can't put the same type of battery in a kayak as you see on a large boat, but you still need a 12v system. All fish finders are 12v so we have you covered. The battery system in the photo, depending on your fish finder can power your electronics 10 to 20 hours before needing a recharged.
These are just some of the items Hammerhead Kayak Supply designs and offers for your fishing kayaks. 
Thank you again and please come back often.
(All Photos by Russ James. Do not use without permission.)

---
About Us back to Hammerhead Kayak Supply Home