Why Hire a Fishing Guide?
Kayak Fishing for Redfish at Rockport Texas
Most fishermen have never hired a fishing guide. Unless you are rolling in dough, guides can be expensive, especially ones worth their weight. But there are real reasons to hire one. But be careful, once you have hired a great guide, you may get hooked. A good guide can make the experience so fun, it can change the way you fish and look at fishing. 
Some of the most memorable fishing experiences I have had was with a fishing guide. We always consider hiring a guide when pursuing game fish that we never fished for in the past or if we were in a new area. All I had to do was be prepared for the sun, have already had my morning coffee and make sure I show up on time. The guide was there on the dock waiting for me on the scheduled day. The guide provided all I needed, including fishing gear, water and snacks. They put us on top of fish and taught me where and how to find them and catch them. They photographed the catch, cleaned the fish we kept and some even had photos and videos of the experience. 

Depending on where you are fishing, I have paid from $150 to $450 for four hours. Prices seem to be fairly consistent in geographical areas. For 4 hours on the gulf for redfish or tarpon, etc are the price was roughly $450 in peak times. For inland river fishing in the Arkansas Ozarks, I have forked out $185 for trout fishing. 
If you are on vacation and you want a once in a lifetime experience pursuing tarpon, redfish, stripers, bass or any other game fish, think about hiring a guide.  Even if you are fishing a lake you've fished a thousand times, but want to catch a particular fish you have little experience with, consider hiring a guide.
Some Things to Consider Before Hiring a Fishing Guide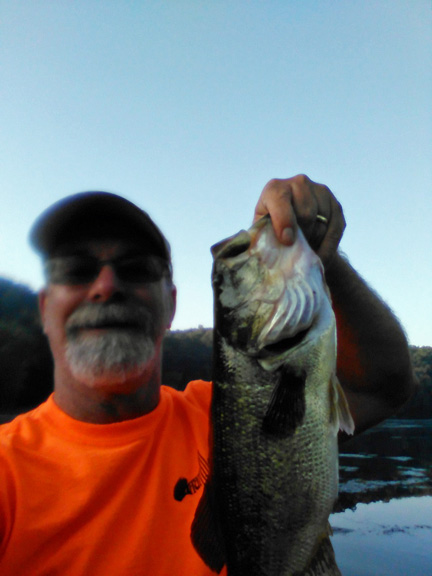 Nice Largemouth Bass - Lake Norfork
Important Note: Not all guides are equal. Some are much better than others. You need to look at their qualifications before forking out any money. Here are some things to look for.

Does the fishing guide have a website? Look it over carefully. A guide will often give you information about fish he pursues and times of the year they are most likely to be caught. This is especially true in saltwater since fish can migrate far off shore. It will also tell you what he expects from you and what he gear and food/services he provides.

Does the guide have a good reputation and good personality? Check any feedback if there is any. What do people say about him? You will have to spend several hours on the water with this person, so he needs to be more than a water taxi. While his fishing skills are important, it is a service business after all. If you get reports the guide can be cantankerous or spends all his time fishing and ignoring you, don't hire him. 

Many saltwater species are more often caught during certain times of the year. Be sure to check that the fish you are wanting to pursue can be found when you are wanting to fish. If not, are you flexible? Is the guide flexible and does he have knowledge of different species? If at any point you are not sure about the guide, move on to someone else. 

Look over his photographs and videos. Although he will most likely post only the ones  that are best for his business, it gives you an idea if the majority of fish he/she pursues. 

Check to see if he has a Youtube Channel. If so, watch some videos. You will see how he interacts with the clients and what boat and gear he uses.

Ask if he will be fishing as well. I am not against a guide fishing and can actually be important to see what lures the fish are hitting. However, the guides primary job is to get YOU on fish. He needs to be ready to help in a second's notice, retie lures or assist in landing fish.  He also needs to be ready with the camera because at the end of the day you will want to share those memories.

Most fishing guides provide quality fishing tackle. No need to bring your own. I would probably use what the guide offers since it is what he is accustomed to and should have them already rigged and ready. This doesn't mean you can't use your own gear. However, common sense should prevail. If you use you own, make sure if is a good fit for the fish you are pursuing. Also, don't bring your baitcasting reel if you are just learning how to use it. Don't use the guides baitcasting reel if you have never used one. It has a learning curve and you don't want to be learning at $100  an hour. Ask what the guide will be providing, and if need be, practice before the fishing day. 

If you are a beginner, be sure you tell the guide that. If he prefers more experienced anglers, look somewhere else. The fishing guide needs to be patient and most are willing to help the beginner from start to finish. 
Will he clean your fish as part of the price? Most guides will. Some guides strongly prefer catch and release. If that is not what you are after, look somewhere else. If you goal is to bring home the catch, be sure to voice that before hand. 
Many restaurants in coastal areas will allow you to bring your freshly caught and filleted fish in and they will cook it as you request. If so, if you really liked the fishing guide and you have a lot of fish, invite the guide and provide the fish for the meal. It is a great show of appreciation and the guide will certainly remember it. 
Fishing guides do not provide fishing licenses, but can be purchased in a lot of locations in most cases. Make sure you have the proper licenses before the fishing day. Game wardens may appear out of no where and you need to be ready or face a stiff fine. 

Above all else, have fun and tight lines. 
---
Hiring a Fishing Guide back to Hammerhead Kayak Supply Home