Finding the Best Bass Fishing Spot
On Flooded Lakes and Rivers

Flooded Norfork Lake in Missouri
Find the best bass fishing spot on lakes and rivers can be challenging. If the lakes are flooded the degree of difficulty rises exponentially.
Here in Missouri, like many other states, the terrain is heavily wooded. When the lakes and rivers flood millions of trees become partially or completely submerged. To many anglers this seems like an incredible opportunity for easy bass fishing. Just look at all that new structure to fish, right? Not necessarily.
Fishing every tree that was previously above water may provide a fish or two in a day, but it is a lot of wasted energy. For the most part, the same principles will apply to the flooded lake as it was before the lake was flooded.

A secret to finding the most productive bass fishing spot in a flooded cove or inlet is to look for a small group of brush, trees, or manmade structure that extend out from the rest or is completely separated from the rest of the debris . If these are located close to drop offs, channels, submerged road edges, etc. the better.

In the photo above, the lake water on Norfork Lake has claimed about 100 feet of previously dry ground. Small trees and shrubs, picnic tables and roads are submerged and can be seen in front of the kayaker. I was familiar with the area before it flooded and knew that the concrete picnic tables were located in front shallow bluffs with pretty ornamental shrubs that are now underwater. Plus, my fish finder electronics helps to locate the exact spot. Those bass fishing spots made for great fishing.
Finding that Bass Fishing Spot and Lure Tips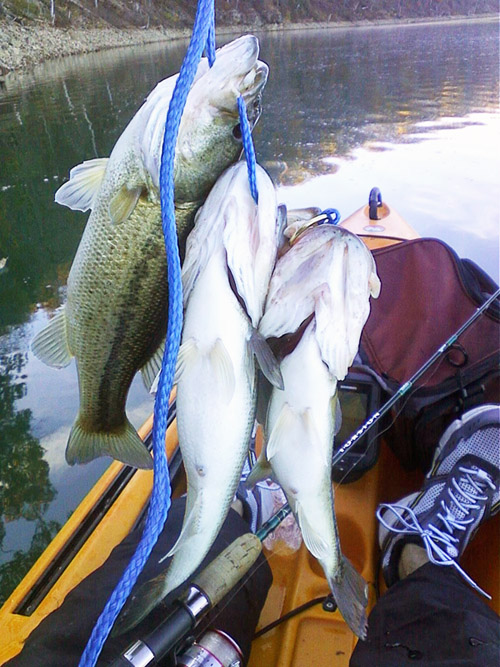 Several Nice Bass from Lake Norfork
The lakes in southern Missouri have been flooded the entire year of 2015. Many small narrow creeks have now become large, wide coves with a tremendous amount of floating logs, uprooted trees and submerged brush. Most of it is inaccessible and blocked by debris. I can hear the fishing jumping all through this mess, but I pay little attention to it. It wouldn't do any good anyway. Instead I concentrate my lures to the more approachable structure close to the stream bed. 
Top water fishing can be fantastic in the morning hours. Early morning I will work top waters like the Zara Spook in a "walk the dog" pattern. Later in the morning I may switch to buzz baits in and around these structures. As the morning progresses I will switch to crankbaits, plastic worms or jigs. On windy days I will fish the grass bed with a spinnerbait and have enjoyed using the new Lucky Craft Blade Cross suspending bait as well.  I am a crankbait fan and love fishing them as much as I can. The square bill crankbait is one I often reach for.

Color will be determined by the conditions. In the crystal clear rivers and clear water lakes of the Missouri Ozarks, lure color will often be more natural colors. Muddy or cloudy water will be different.
Smaller crankbaits, roostertails, and especially soft plastics are great on smallmouth bass in Missouri rivers. If you have never fished one of Missouri's incredible rivers, you need to get up here. The Current River, Big Piney River, Jacks Fork River, North Fork of the White River, Bryant Creek in Missouri (there are many more) and Buffalo River and the White River are famous rivers in Northern Arkansas and  excellent for trout, largemouth and smallmouth bass. The White River has had several world record trout taken from it.

Norfork Lake, Bull Shoals Lake, Table Rock Lake (Bull Shoals and Norfork lakes lay in Missouri and Arkansas), as well as Lake of the Ozarks and more are excellent Missouri bass and striper fisheries. Beaver Lake of northern Arkansas is also a great bass and stiper lake.

---
Finding the Best Fishing Spot back to Hammerhead Kayaks Supply Home